Advance Freight has 20 dedicated years of service to clients. Our can-do attitude has seen us involved in many challenging and complex jobs – from special events to construction site projects – as well as providing an efficient and effective day-to-day service, delivering directly to businesses and homes. Our business is built around strong relationships with our customers. The integration of the various arms of our company allows us to provide fast and effective pick-up and delivery services. We also have strong links and contractual relationships outside of the company to help meet a variety of delivery requirements New Zealand-wide.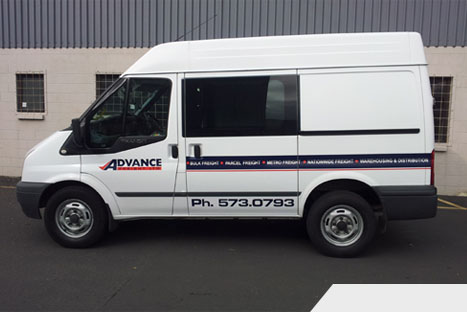 Our Expertise
We provide efficient solutions to your business' freighting requirements. Transit solutions are provided for a wide variety of products and volumes. We are focused and uniquely positioned to be able to provide a complete transport solution - from parcels, to pallets, to contract routes. Expertise is maintained through training and innovation. We capitalise on our employees' innovative ideas to provide better outcomes for our clients at both the consignment and delivery ends of the process.
Vision and Commitment
In 1989, the company comprised of four vans (north, south, east and west) and one truck. Now the fleet comprises of over seventy five service vehicles and we offer services New Zealand-wide and internationally. We offer strength and dependability and welcome enquiries from international agencies and franchises looking for a partnership in logistics and distribution. Our business conducts itself in accordance with the provisions of the LTSA office and the Code of Responsibility. We operate according to the terms and conditions of the Carriage Of Goods Act 1979. We are proud to offer the best freight and courier service to our clients.
Our Structure
Our company structure is unique. We keep our business accountable and reliable through our policy of being a closely held company, which we have had since 1989. This means we have a small, dedicated group of people managing our company, who are determined to provide you with the best service at the right price. This structure allows us to create an exciting dynamic that keeps us focused on the job at hand for our clients and has supported our growth over this period of time. It also makes sure that our clients are not lost in a hierarchy of managerial layers.
Our Facilities
Central operations based in Mt Wellington, Auckland - convenient for Auckland industry and the business community
Two-acre-plus warehouse in Auckland offers short- and long-term housing of freight, and is supported by our pick and pack operation
Managed facility agreements in place in major cities, providing delivery services to all physical address (local and rural)
A global network, spreading to 28 countries, to cater for both domestic and international clients
Our infrastructure gives us the space to handle peaks in your business, and the security to take care of your property in a clean, organised transitional facility.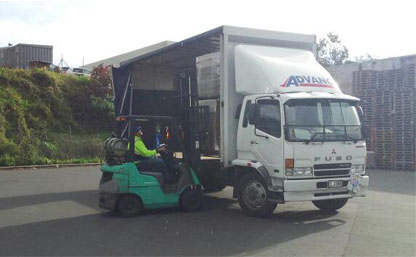 Our Equipment
One and two tonne vans
Tail lift trucks and hiab
Flatdecks: 4 x 2, 6 x 2, truck and trailer
Quad container units
Curtain side truck and trailers
Bulk truck and trailers - tippers
Forklifts - variety of capacities
Swing lift - 20' and 40'
MAF transitional facilities
Container devanning
Warehousing
Packaging workshop
Logistics solutions software
Our People
To support the network of delivery vehicles, the departments within Advance Freight are staffed by extremely experienced and helpful people. These departments consist of Customer Services, Dispatch, Accounts Payable, Accounts Receivable, Warehouse Operations and Drivers.